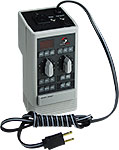 The Model 451 solid state digital timer is an excellent choice for factory, lab or studio use. It has two independent, programmable memories for single cycle switching or continuous cycling. The Model 451 electronic timer is 100% solid state for digital accuracy and repeatability. It has a simple design with highly visible two-digit LED display that makes time setting easy. The 99 minute time range can be set in minutes, seconds and 1/10 seconds. The Model 451 dual memory switching timer has two independent, separately programmable memories allowing for operation as a single-cycle switching timer as well as an auto-start feature for continuously cycling. It has easily adjustable controls for display brightness, AC outlet power, audio signal choices and countdown time ranges. The three countdown time ranges are minutes up to 99, seconds up to 99 and tenths of seconds up to 9.9. The three audio signal choices are off, metronome and end-of-cycle tone.
The model 451 has a durable plastic case with rubber base pads and wall mounting keyholes in the back.
Limited one-year warranty.
SKU: 451 Weight: 3 lbs.
Available Accessories