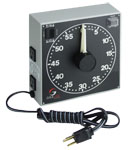 Minutes and seconds can easily be read across the room in total darkness, making the Model 300 timer ideal for film processing, especially the precise timing required by color processing. The 60-minute time range can be set in minutes for developing and seconds for enlarger control. Two hands permit quick setting by seconds, minutes or combinations of seconds and minutes.
An exclusive dual-cam mechanism provides extreme accuracy for long time intervals: +/-.015% at maximum dial setting. Two separate outlet receptacles control an enlarger or printer and safelight by a combination time/focus switch. Each outlet has a 600 watts rated capacity for operating most film processing equipment. The Model 300 can be used with a relay for heavier loads.
The case is made of durable plastic and measures 7 1/2" x 7 1/2" x 2 1/2". It is exceptionally strong, withstands high impact, resists chemicals and moisture, and is electrically non-conductive. The case has a recessed handle in the back and keyholes for wall mounting.
Model 300 features:
Plastic boot over the power switch prevents corrosion from chemicals or water.
Contemporary, easy-to-read numerals on a large 6 1/2" diameter face. Numerals, dial and hands are luminous.
Setting knob for fast fingertip control.
Precision accuracy assured by electric synchronous motor.
The buzzer alarms at the end of the timing cycle and can be heard above ambient noise levels.
Sturdy plastic case with rubber base pads resists impact, chemicals and moisture.
Gray, texture, non-slip finish has contemporary look.
Keyholes in back make wall mounting easy.
Three-wire grounded cord.