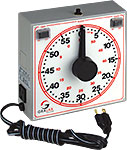 In the gym, classroom or on the field, GraLab Sports Timers provide split-second synchronous accuracy for any period from one second to 60 minutes. They're ideal for team sports, one-on-one competition and exam timing plus dozens of other scholastic and sports timing uses.
Turn on the power switch. Set the desired time with the large knob. A built-in buzzer automatically signals the end of the period. A push button on top lets you control the built-in buzzer and a horn or light plugged into the accessory outlet to gain the attention of officials and participants during action or time-out.
The 6 1/2", easy-to-read white dial has large black numerals and an inner circle of red numerals that can be read at a glance from a court or playing field. The red numerals let you use the timer as a minutes-and seconds-elapsed time indicator or stopwatch.
The case is made of durable plastic. It's strong, withstands high impact, resists moisture and is electrically non-conductive. A recessed hand grip in the back and rubber base pads provide multiple mounting options.
Input voltage is 100 to 130 VAC, 50 or 60 Hz (U.S. And Canada). For timers requiring higher voltages for other countries, contact GraLab. 3-Wire plug fits all standard grounded sockets.